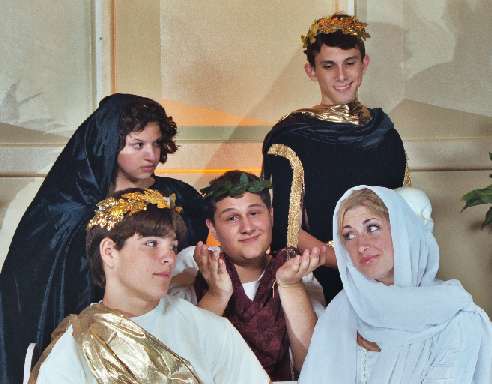 Erica Ranade Andrew Bridgman
Mike Hughes Matthew Domasica Caroly Jania

Produced and Directed by Larry A Brechner Musical Direction by Dr Timothy Bartlett
Assistant Director Carol Lynn Brechner
Choreography by Julie Ason
November 14-16, 2002 7pm
(Nov 17 Sunday Matinee at 2pm)
Munster Theatre Company is pleased to present the Stephan Sondheim musical, A Funny Thing Happened on the Way to the Forum. The Production and Directing Staff include: Larry A Brechner
Producer/Director; Dr. Timothy Bartlett Music/Orchestra Director; Carol Lynn Brechner, Assistant Director; Julie Ason, Choreographer, and Molly Hanson, Student Director.
Set in about 200 BC in Rome, it is a Vaudevillian musical farce centered on the House of Senex. The Story begins with Senex (Andrew Bridgman) and Domina (Erica Ranade) leaving on a trip, trusting the household to the slaves Hysterium (Lenny Weiss) and Pseudolus (Matthew Domasica). The next house is that of Marcus Lycus (Jim Bochnowski), a seller of courtesans. Their son, Hero (Michael Hughes) falls in love with a courtesan, Philia (Carolyn Jania), who has been sold to a Roman Captain, Miles Gloriousus (Joey Manderino). Hero sends his slave, Pseudolus to get Philia, and will free him if succeeds. The final house of Erronius (Justin Dal Corobbo), an old man who is gone searching for his lost twin children stolen in infancy. With cunning disguises and mistaken identities the characters musically takes the audience on a comic joyride "with something for everyone".
The script from M*A*S*H's Larry Gelbart, and Burt Shevelove, and the first full score (music and lyrics) from Stephan Sondheim which features tunes: "Comedy Tonight, Lovely, Everybody Ought to have a Maid," and many more. Forum is a delight for everybody. Originally starring Zero Mostel as Pseudolus, more recently Nathan Lane and Whoopee Goldberg have brought this lovable rascal to life.
Forum will run Thursday, November 14; Friday, November 15: Saturday, November 16 at 7pm, and Sunday, November 17 at 2pm in Munster Auditorium. Tickets are $6 in advance or $7 at the door and are available at the Auditorium Box Office on performance nights or in advance by calling: (219) 836-3200 x245, by email at auditorium@iname.com .